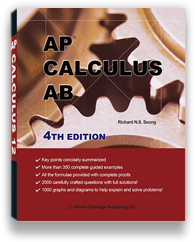 About This Book
This book has been in the making for more than 6 years. During this time, questions were revised and added to serve as repeated practice. This practice aims to ensure a proper understanding of each challenging concept in Calculus. In order to implement a deeper understanding and stronger foundation of Calculus, I have provided extensive proofs for every formula. Students are to be led step-by-step through each question, with full solutions provided. To further facilitate a thorough comprehension, many detailed graphs and diagrams are at the student's disposal.
This workbook is focused on AP Calculus AB, as this course is essential to higher level Calculus, and required in university programs such as mathematics, engineering, science, business, etc.
I have taken it upon myself to title this book "AP Calculus 12 AB", combining Calculus 12 (regular Calculus) and AP Calculus AB – they share much of the course content with one another. This workbook is suitable for Calculus 12 as well as AP Calculus AB.
It is important to note that students are strongly recommended to take AP Calculus AB in order to acquire a better foundation for university level Calculus.
I hope that students will be able to build a strong foundation of Calculus with the help of this book.